ZEISS CIRRUS HD-OCT 4000
Yancey Eye Center has recently purchased one of the most advanced glaucoma and macula degeneration analyzers available. OCT is a new, non invasive technology used for imaging the retina, the sensory tissue lining the back of the eye. OCT was the first instrument to allow doctors to see cross-sectional images of the retina, revolutionizing the early detection of such eye diseases as Glaucoma, Macular Holes, Macular puckers and Macular Degeneration. This allows Dr. Yancey to provide you with the utmost Optometric care available.
---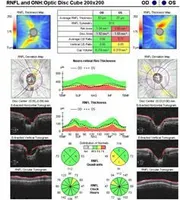 ---
VISUAL FIELD TESTING
Our office offers some of the most advanced visual field testing available including: Humphrey Visual Field Analyzer (HFA II), Zeiss Matrix 800 and Humphrey FDT. Almost all patients over age 10 receive a complementary field test at their initial comprehensive exam.
---
CORNEAL TOPOGRAPHY
Our newest acquisition the ATLAS 9000, provides us with unprecedented analysis of the cornea thus allowing us to diagnosis and evaluate such diseases as Keratoconus. In addition the Master Fit Software aides in the complex design of specialty contact lenses assuring proper fit and wearability.
---
OPTOS 200Dx
The Optos provides an Ultra-Widefield view to support diagnosing, analyzing, documenting and monitoring ocular pathology in the periphery of the retina. The capture is painless and takes less than a second to acquire an image.
---
DIGITAL HIGH DEFINITION ACUITY MONITORS
Our Vidalia office utilizes digital monitors to access your visual acuity similar to the high definition TV you enjoy at home. Unlike its predecessor the light gun which projects letters onto a screen the monitors provide us with much higher contrast and resolution to determine your sharpest vision possible.
---
DIGITAL RETINAL PHOTOGRAPHY
With the use of our TRC-NW6S Digital Fundus Camera we are able to offer some of the highest resolution photography available, allowing documentation of Optic nerve Status in Glaucoma patients as well as those with Diabetic Retinopathy and Macula Degeneration.

---
TOPCON-800S AUTO KERATO- REFRACTOR
This instrument allows us to obtain computerized refractions and corneal measurements to assist us in determining the most accurate eyeglass and contact lens prescription available. In addition, this instrument also provides us with visual acuity under glare conditions before proceeding with recommendations for cataract surgery.