Meet Vidalia Optometrist, Dr. Ronald Yancey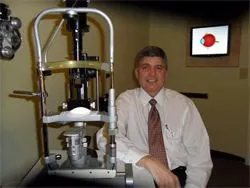 Dr. Ronald Yancey, a Vidalia native, opened Yancey Eye Center after receiving his B.S. degree in Biology (GA Southern) and his Doctorate in Optometry O.D. from (Southern College Optometry, Memphis) in 1992. Dr. Yancey is certified in thetreatment and management of ocular disease (By the International Association of Boards of Examiners in Optometry).
He is married to Lachele and the father of two daughters McKale and Helen Elise.